How to Choose the Perfect Wedding Dress for Your Body Shape
Choosing a gorgeous wedding dress is the one decision that every bride wants to get perfectly right, regardless of anything else that will happen on the wedding day. This can be a challenge when there are so many options out there. One way to narrow it down and make sure you look your best is to consider which style of dress will be the most flattering for your figure and show off all your best assets. Whether you have an hourglass, triangle or oval body shape, there's a dress style out there that is just right for you. Here are some of the most common body shapes and some useful tips about what style of wedding dress will work with your figure.
Hourglass
Brides with an hourglass body shape usually have a narrow waist, while the bust area and hips are wider and have almost the same size. It's a lovely curvy figure and most clothes would fit this body shape well.
What works for your figure: Look for dresses that hug and show off your curves, such as a silhouette or mermaid style. A sweetheart or plunge neckline works better than for example a halter or high neck dress, as this will let you look more balanced.
Stay away from: Ball gown, empire or princess-style dresses with fuller skirts, as this could make you appear bigger around your bust and hips.
Pear-shape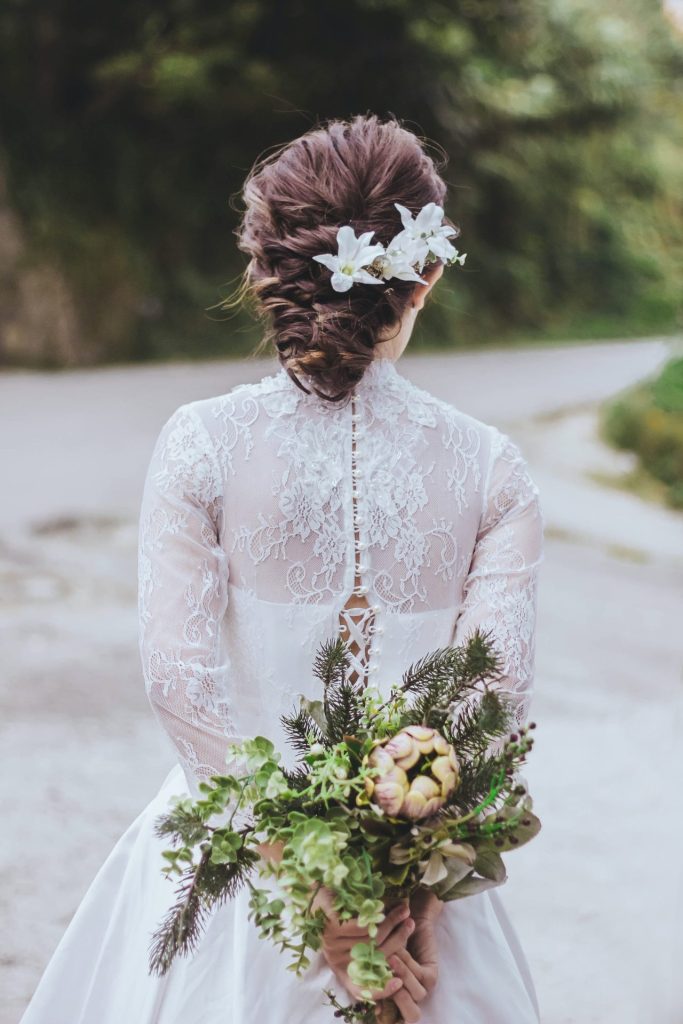 Pear body shapes tend to have hips that are wider than the bust area and a fairly defined waist. They often have very feminine neck and shoulders and are smaller in the chest area.
What works for your figure: Wedding dresses like sleek silhouette or mermaid dress. Dresses with sleeves are also a good option to balance out your smaller shoulders with your wider hips.
Stay away from: Empire dress styles may hide your dainty figure and make you appear bigger than you are.
Inverted Triangle
This body shape name means the shoulders and upper body are proportionally bigger than the lower body. The bride may have broad shoulders with a slimmer waist and smaller hips.
What works for your figure: A symmetrical or v-neck style works perfectly with the inverted triangle shape. Fuller straps and sleeves also make your shoulders look more subtle. You could look for dresses with more detail such as lace as this will help your shape appear more fully balanced.
Stay away from: Off-the-shoulder, strapless or halter neck dresses would highlight and exaggerate your wider shoulders too much.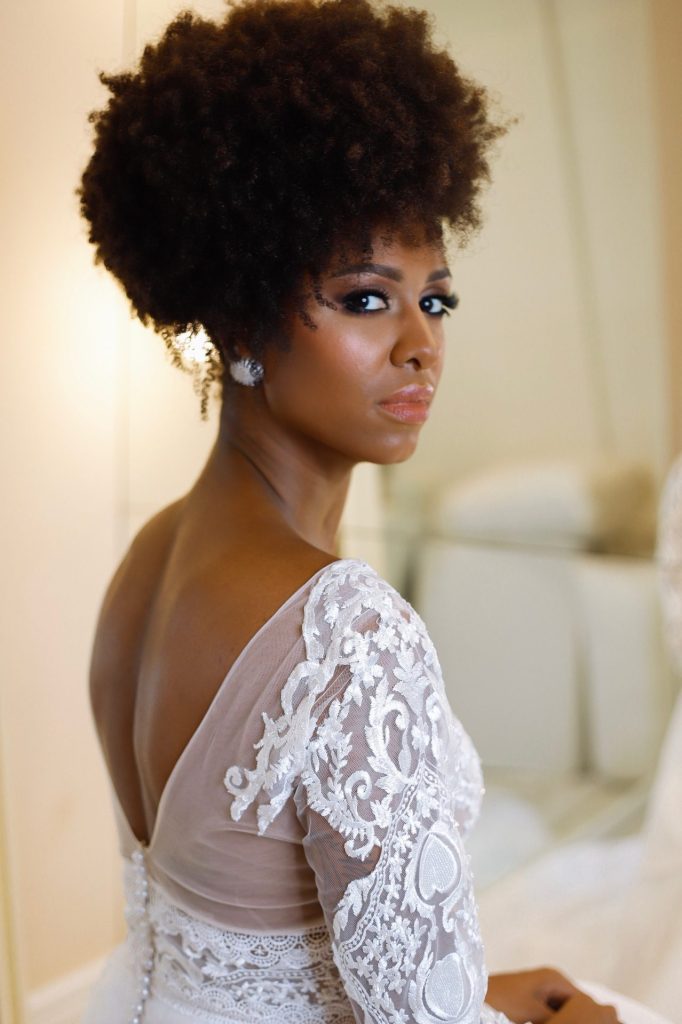 Rectangle
Having a rectangle body type, means a straighter figure with shoulders, waist and hips of similar width. Sometimes these brides are also tall, have little waist definition and a smaller bust, looking a bit "straight up and down".
What works for your figure: A-line, empire, ball gowns and princess-style dresses are great. Any these styles with a fuller bottom gives more definition and adds curves to your shape.
Stay away from: Try to avoid figure hugging dresses such as mermaid, fishtail or silhouette styles as these will accentuate your straight shape and give less definition. High necklines may also make you appear even taller.
Round or Oval or Apple
The oval body shape, also referred to as apple, is when the bust is average or larger, the hips are narrow, and the midsection is fuller. Basically a more rounded midsection with often slender arms and legs.
What works for your figure: Clothes that elongate your torso and suggest a narrower waist can look good. Empire style or A-line dresses with flared skirts that flow through the waistline, give you a curvier and more balanced shape. Lower necklines and more detail on the chest area can also draw attention upwards and away from the midsection area.
Stay away from: Halter or high neck gowns could over-emphasize the chest area. Also avoid dresses that draw attention to your waist and pleat patterns.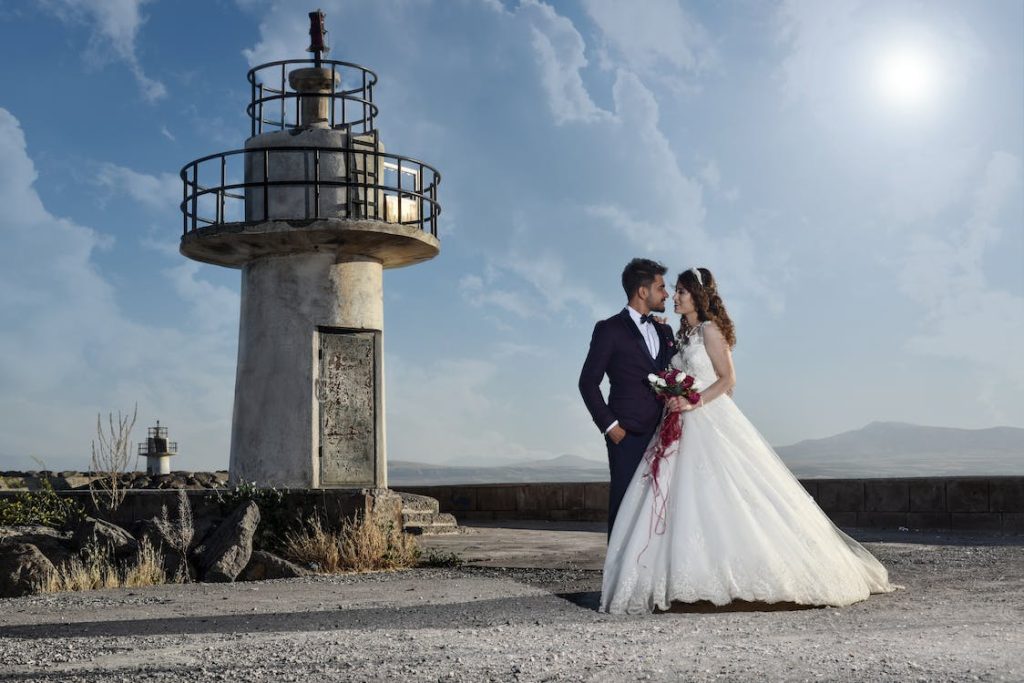 Petite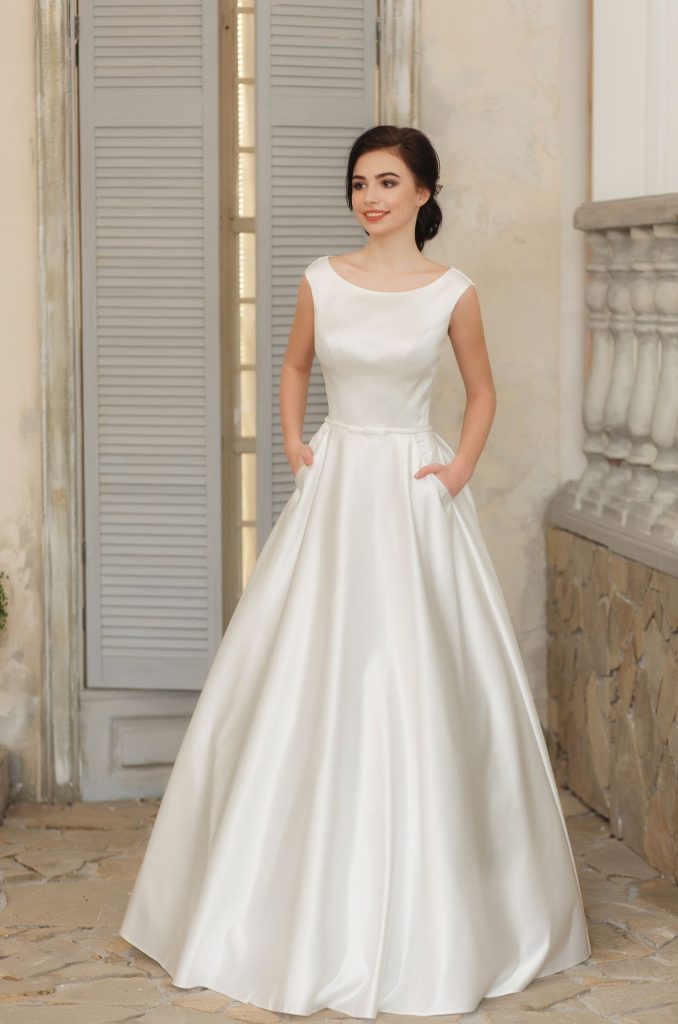 Petite is not really considered a body type or figure, but being shorter can also affect how certain dresses look on you. In the world of fashion, "petite" describes a woman who is shorter than 163 cm.
What works for your figure: In the case of smaller brides, it's always a matter of the simpler the better. A simple, structured lining will be flattering, without overpowering your small frame. An empire waistline works well, by making your legs appear longer.
Stay away from: Avoid dresses with high necklines, full sleeves, and stay away from too much billowing fabric to get lost in.
Whatever body shape you have, there is a dress style that really suits you and will let you look your best on your special day. Find a dress that suits your body shape, but that also goes with your personal style. Don't ever wear something that you do not feel comfortable in. It's your day to shine and feel good in your unique dress!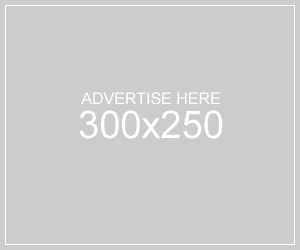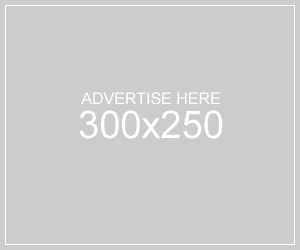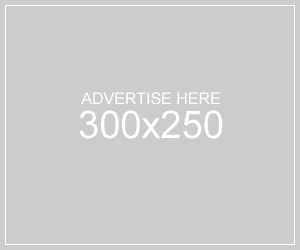 Choosing the best hairstyle for your wedding has a lot to do with your personal style and what works for your face or style of dress. But brides…